Contact a developper on PrestaShop Addons Marketplace
Contact a developper on PrestaShop Addons Marketplace
Laure
-
Updated on March 20th, 2023
PrestaShop Addons is the official PrestaShop Marketplace. It gathers a large choice of modules, graphic themes and services developed by PrestaShop, as well as its community of partners and independent developers.
You may need to contact these stakeholders at different stages of your store's life, so here are several ways to proceed depending on your situation.
You are thinking about purchasing a product
When you want to contact a developer before buying a product to ask about its features and compatibility, having an Addons account isn't necessary.
Go to the product page

Select the "Developer" tab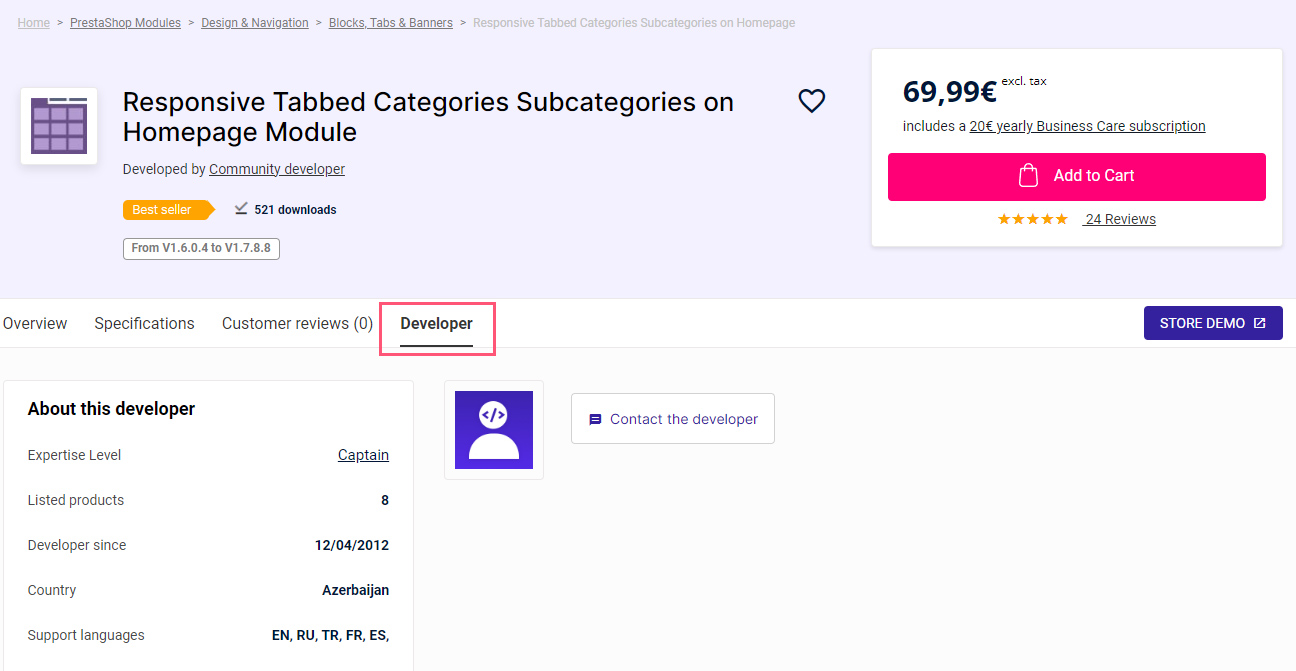 Click on "Contact the developer"

Select "I would like to buy this product"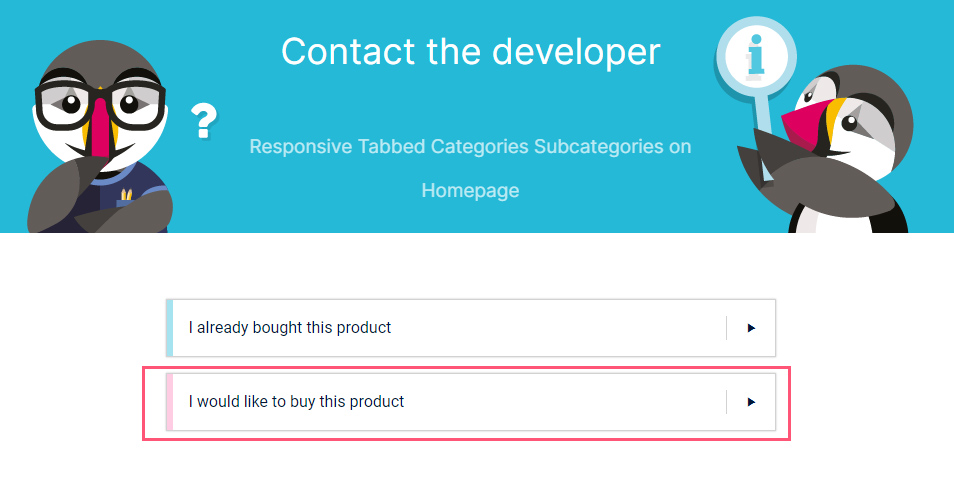 Fill in the contact form and submit it.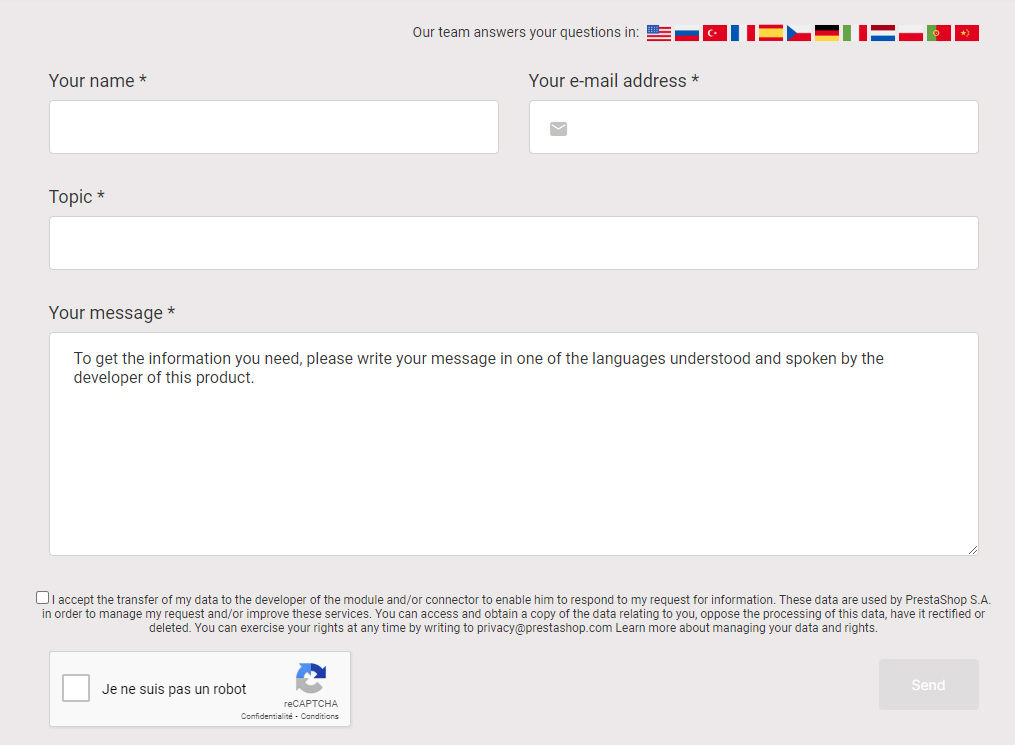 Don't forget that you can also test a demo of the product when the "Store demo" button is available on the right side of the product page. This may already answer some of your questions!
You have already purchased a product
Here's how to contact a developer - you'll need to be logged in to your account.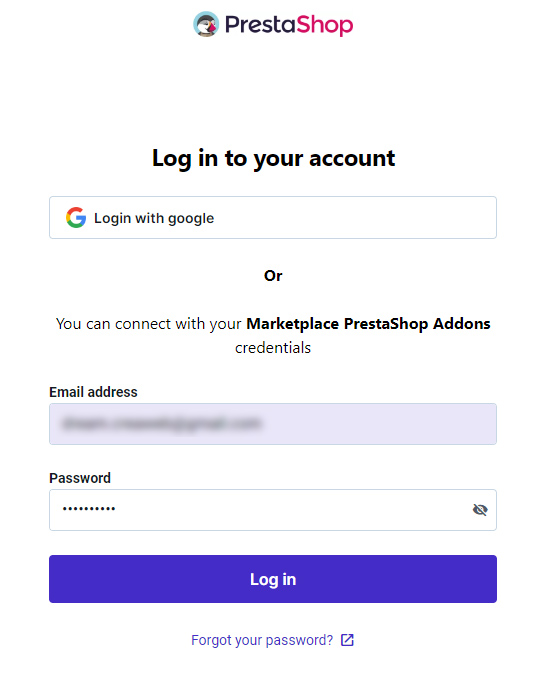 Go to the support menu

Select the product and click on Details

Check if your Business Care subscription is still active, otherwise you'll need to reactivate it.



Select the "Contact Developer" or "Contact PrestaShop" button depending on who developed the product

Select the "I have a question about a purchased product" option
If you have already contacted a developer or PrestaShop about a product and were properly logged into your Addons account, then you will be taken directly to the corresponding messages page rather than the contact form.
![10 - page de messages.jpg](<https://s3-us-west-2.amazonaws.com/secure.notion-static.com/b6358a27-33a4-4c62-9cda-201b5d05b8b3/10_-_page_de_messages.jpg>)

Select the main reason for your request

Fill in the form and submit it.


The "I have a question about an invoice" and "I would like to cancel my order" options will redirect you to PrestaShop customer service, not to the developer.
You downloaded a free product
When you download a free product directly, it does not appear in the Orders, Downloads or Support section of your Addons account.
If it's a PrestaShop product, you can contact us on this Help Center via the contact form, specifying the subject of your request.
If it's an independent developer, then you can go through the product sheet to access the "Contact the developer" option, as detailed in the "You are thinking about purchasing a product" part of this article.
Frequently asked questions
Where can I find my conversations with developers on PrestaShop Addons?
Once a message has been sent to a developer on Addons, you will be able to see it as well as the developer's reply in the "Messages" menu
How do I know if my message has reached the developer?
You will receive an email notification as soon as you send or receive a message on Addons.
Do I always have to give my FTP access?
Some Addons contact forms ask for your FTP login information by default. You do not need to provide this information unless you are specifically asked for it by our customer service or the developer. The only required fields are marked with an asterisk.