PrestaShop Edition
Laure
-
Updated on November 25th, 2022
What is PrestaShop Edition?
A ready to use solution to launch your online shop! In French only for now.
Based on the PrestaShop open-source project
Enhanced with an essential suite of plugins
Maintained by our teams and partners

Create a shop easily
When you create a new shop, an interactive guide will help you with setting-up in a few steps:
Shop design
Add a product
Shipping
Payments
Legal requirements
Domain name

Benefit from our help
We're taking care of setting up a hosting solution for your shop
All the essential features you need are preinstalled
Our Support teams will help you and answer any questions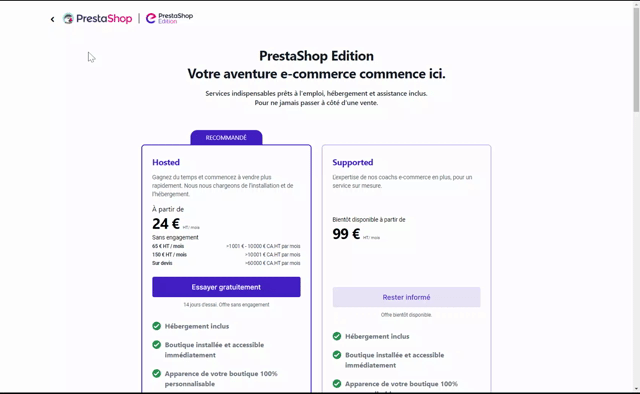 Grow with us
Your shop will soon be customizable
PrestaShop Edition will be in constant evolution thanks to your feedback
You'll have access to documentation and training videos
FAQs
What's the pricing?
After 14 days of free trial, those prices apply without commitment:
24 € HT / month: up to 1 001 € revenue excl. taxes per month
65 € excl. taxes / month: 1 001 € - 10 000 € revenue excl. taxes per month
150 € excl. taxes / month: 10 001 € revenue excl. taxes per month
Ask for a quote: 60 000 € revenue excl. taxes per month
Which features are already installed?
Everything you need to open your shop easily!
Payment and shipping solutions
Customizable theme
GDPR and cookies management
Statistics dashboard
Marketing tools
What's the difference with the open source project?
PrestaShop Edition is a ready to use solution, based on the open source PrestaShop project. It's been enhanced with essential features to start your business, and is supported by hosting and assistance services.
What is included in the Assistance services?
Unlimited support available 6d/7 via phone call from 9am to 10pm (UTC+1) and contact form.
What about the "Supported" offer?
It will be available soon, with new features and services, like coaching sessions, technical support directly on your shop, and more. Stay tuned!
Related articles: