Configure menu
Anne-Sophie F
-
Updated on Friday, August 18, 2023
PrestaShop allows you to customize your store's menu. Find out how!
To access: Modules > Module managers > Main menu
What is the menu?
The navigation menu provides access to the main contents of a website through a set of links redirecting to the different pages of the website. On an online store, it's usually accessible at the top of the home page, and lists product categories.
Where can you customize your store's menu?
In the back-office of your PrestaShopstore, it can be accessed from an included module, entitled "Main Menu", which can be found on the Modules page > Module Manager. Once you've found the module in the list, click on "Configure" to access the configuration page.
How do I configure the menu?
This is what the menu control panel looks like: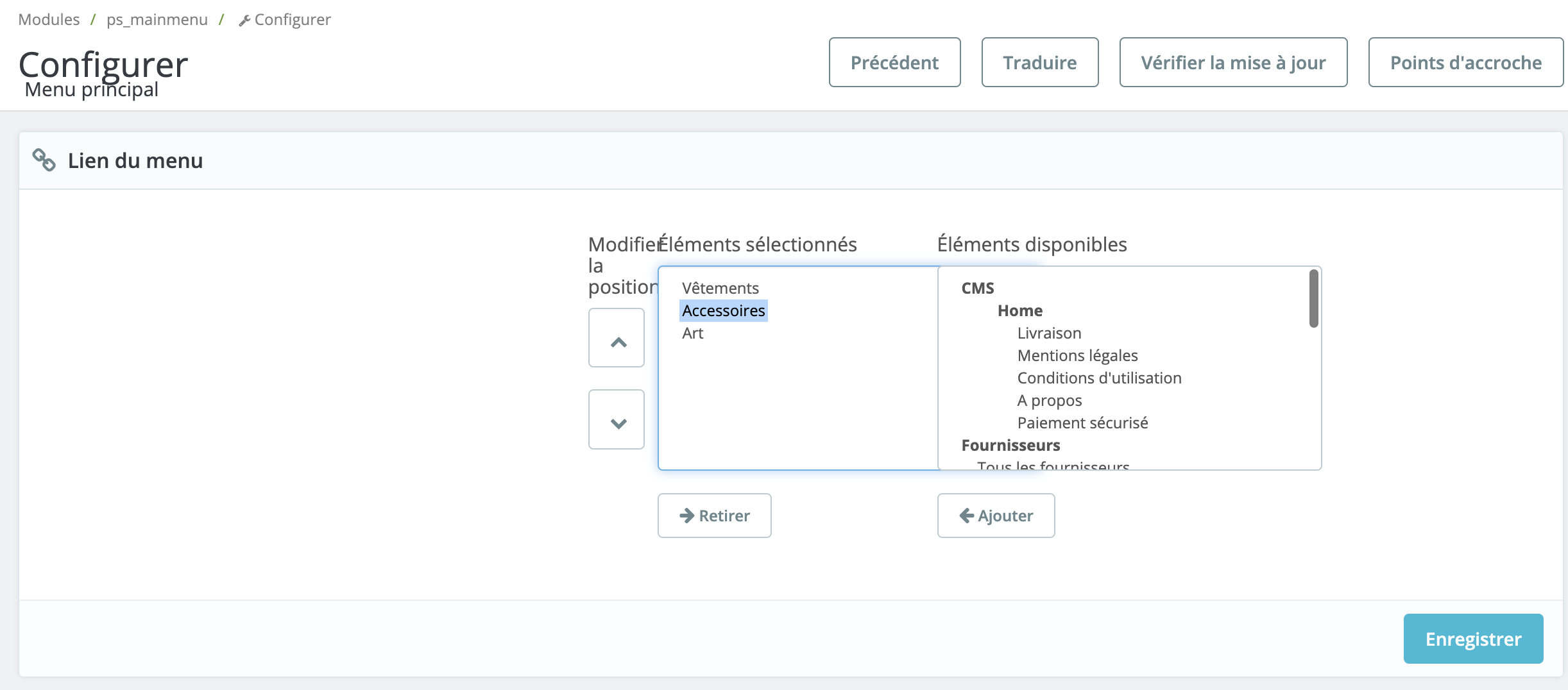 Selected items are those that appear in your menu.
Available items are those you can choose to include in your menu: delivery, categories, products, etc.
To add an item to your menu, select it from the list of available items and click "Add". Do the same for all the pages you wish to add. Children's categories are automatically added to the menu. There's no need to add them again, unless you want them to appear in the menu bar.
💡 To rearrange the display order, you can select an item in the left-hand block and move it up or down using the arrows.
How do I add links to internal pages?
You can also add links to pages on your site that are not included in the list. The contact page, for example.

It's very simple: in the "Add a new link" box, displayed below the "Menu link" box, add the link to the page you wish to integrate.
In the "Label" field, enter the name you wish to give to this page in your menu.
Activate "New window" if you want the link to open in a new window.
💡 We recommend selecting "New window" if your link is an external one. If your link goes to a page in your store, you can keep it open from the same browser window.
Click on "Add" to save. Your link now appears in the available items block. Click on it to add it to the list of selected items.
How do I add links to external pages?
The procedure is exactly the same as for adding links to internal pages.