Import a localization pack
Import a localization pack
Anne-Sophie F
-
Updated on Friday, August 18, 2023
PrestaShop enables you to tailor offers to your international customers with localization packages. Find out how to make the most of it!
To access: International > Location
What is a localization pack?
Localization packs allow you to take into account your customers' specific geographical characteristics, automatically adapting their navigation to their regional context. In other words, you can offer them, for example, currency, taxes or tax rules adapted to their country.
Why import localization packs?
Localization packs allow you to configure PrestaShop with precise data on currencies, taxes, languages and units. They're essential if you want to develop your business internationally!
We advise you to use localization packs adapted to the countries from which most of your visitors come. You can access this information using the statistics at PrestaShop.
How do I import a localization pack?
The localization pack import interface looks like this: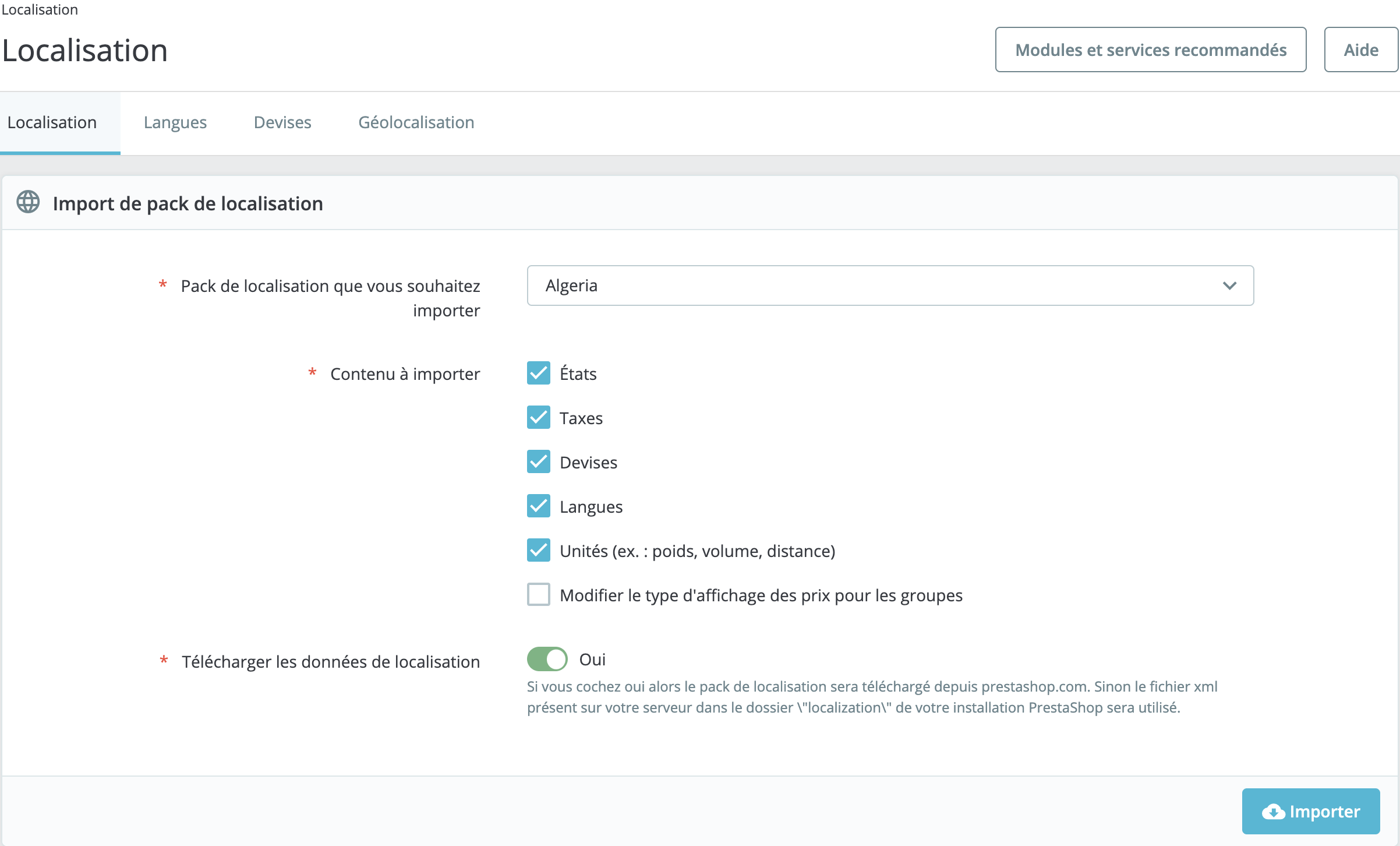 Select the localization pack you wish to import according to the country where you wish to sell your products, then tick the content you wish to import:
States: check this box if the country to which you wish to sell your products is made up of several states, which could affect your shipping rates. Added states can be viewed and modified from the "States" tab on the International > Geographic Zones page.
Taxes: check this box if the country to which you wish to sell your products includes states with specific tax rules - like Canada, for example. Added taxes and tax rules can be viewed and modified in International > Taxes.
Currencies: offer your foreign customers the option of converting your prices into their own currency. Once the pack has been imported, you need to activate the currency via the Payment page > Preferences. Added currencies can be viewed and modified from this page.
Languages: PrestaShop lets you write all your store's public fields in several languages. To perfect your SEO in the target countries, it's very important that you do this for at least the product names and descriptions. Note that importing a language also imports its date format (d/m/y, m/d/a, d.m.y, ...). Added languages can be viewed and modified from the Localization page > Languages.
Units: these units of measurement (weight, dimension, volume, distance) are essential to correctly describe a product to your customers and determine the delivery price. They can be customized from this page, in the "Local units" section.
Modify tax display type for groups: this is an option you can modify to influence the import.
The contents of the localization pack to be imported are optional. This means, for example, that you can choose to import only the currency and language of a given country, and not its taxes.
How do I delete location pack data?
Apart from the default units, you cannot automatically remove all country-related data.
If you need to delete data, you'll have to do so manually, on their respective pages.