Create a discount for a group of customers
Create a discount for a group of customers
Anne-Sophie F
-
Updated on Friday, August 18, 2023
PrestaShop allows you to assign your customers to groups in order to personalize their shopping experience. Let's find out how!
To access: Catalogue > Products
Why create a discount for a group of customers?
Because your customers are essential to your business, it's important to take care of them. Enabling a group of customers to benefit from an exclusive discount is a useful way of rewarding them for their loyalty, or even creating a tailor-made loyalty program!
The ability to create a discount for these particular customers helps you strengthen your links with your customer base. That's why you need to set up customer groups first. You can create as many customer groups as you like, and assign as many customers to them as you like.
How do I create a product discount for a group of customers?
PrestaShop allows you to personalize your discounts, so that a group of customers can benefit from a discount on certain products.
In the "Specific prices" section of your product sheet, select the group that will benefit from a discount, then click on "Save".
The discount you wish to apply will work for all the products in your store, and for the members of this group.
How do I create a category discount for a group of customers?
You can customize your discounts so that a group of customers can benefit from a discount on an entire category. Go to the Catalog page > Discounts in the back office and, from the "Catalog price rules" tab, click on the "Add a catalog price rule" button in the top right-hand corner to display the following creation form: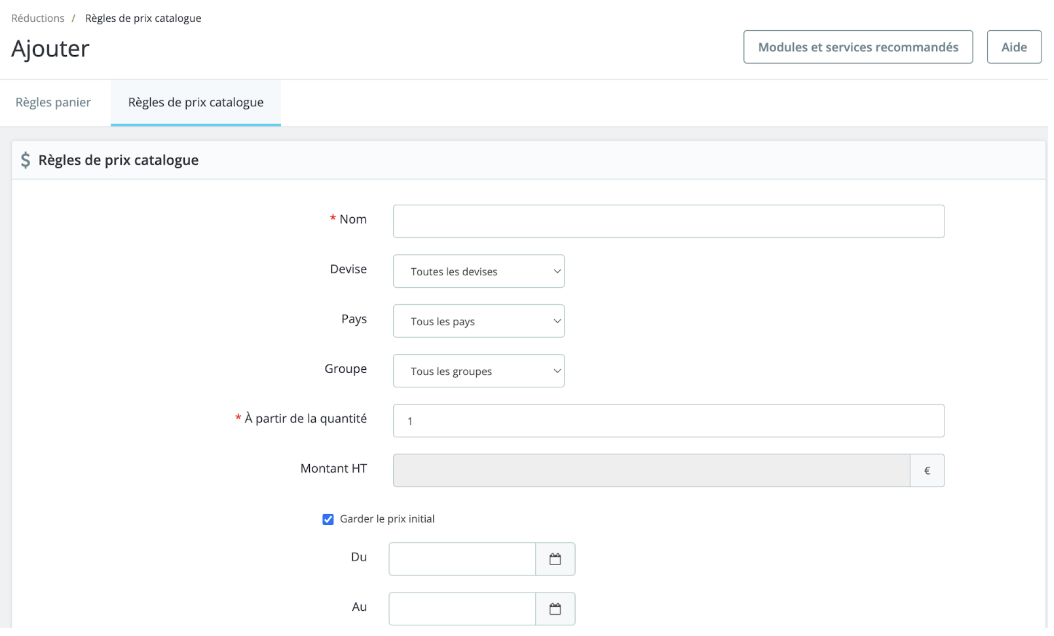 Complete the form to determine the discount and define the group of customers who will benefit from it.
Configure your discount and its duration.
Save the form to make this discount available.
Click on the "Add a condition group" button at the bottom left of the form. You can choose to limit your promotion to the following items:

Categories
Brands
Suppliers
Attributes
Features

Once you've selected the items you'd like to promote, click on "Add condition". Of course, you can mix and match these categories: for example, create a promotion on gray linen menswear.