Create a category
Anne-Sophie F
-
Updated on Friday, August 18, 2023
Categories allow you to streamline the customer experience by compartmentalizing your products, while optimizing your search engine optimization. Find out how to create categories on PrestaShop !
To access: Catalog > Categories
What is a category?
Categories are used to group together products with similar characteristics. They help customers find their way among your many products, simplifying their shopping experience.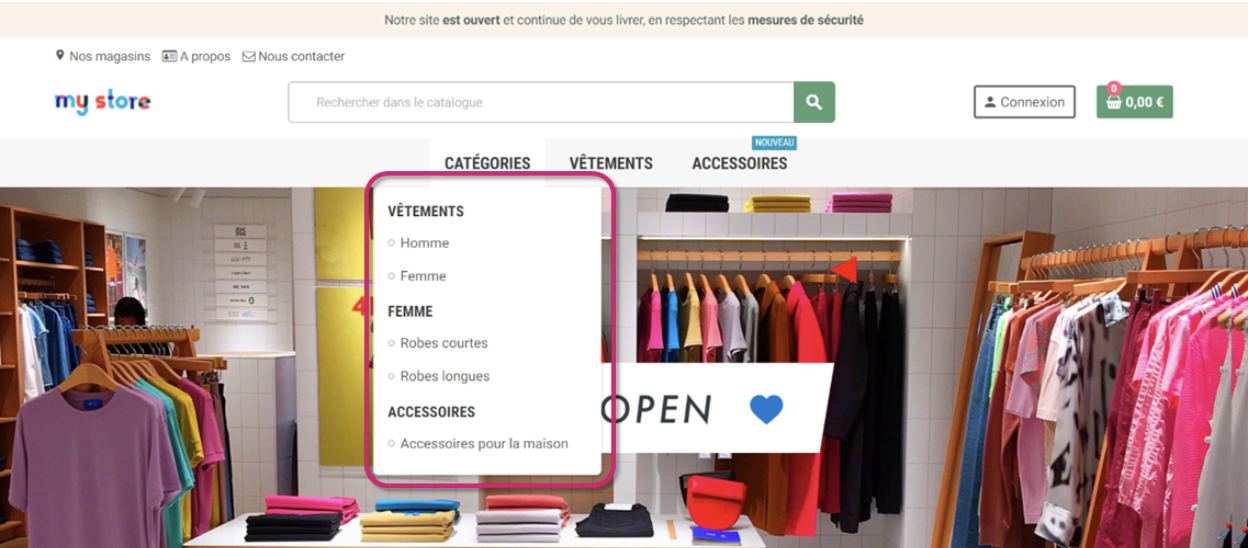 There are two types of category:
The parent category is the main category. Example: "Clothing", "Accessories", etc.
The child category is a sub-category of the main category (= parent category). Example: "Woman" could be a sub-category of the "Clothing" category.
💡 PrestaShop does not limit the number of child categories. However, bear in mind that the deeper the tree structure, the more likely it is that the customer will get lost.
How do I add a new category?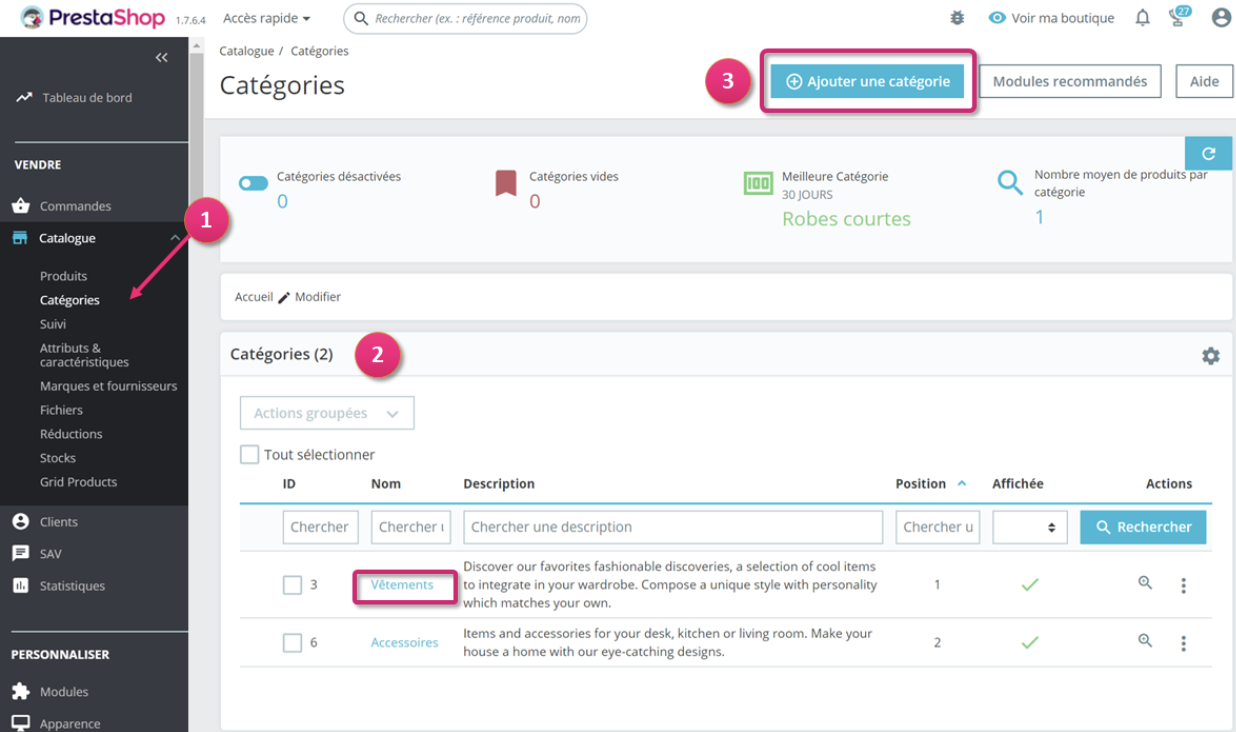 Click on "Add a category" (step 3). You will then have access to a form allowing you to deploy existing parent categories. Click on the category name to view related child categories. Fill in the category fields: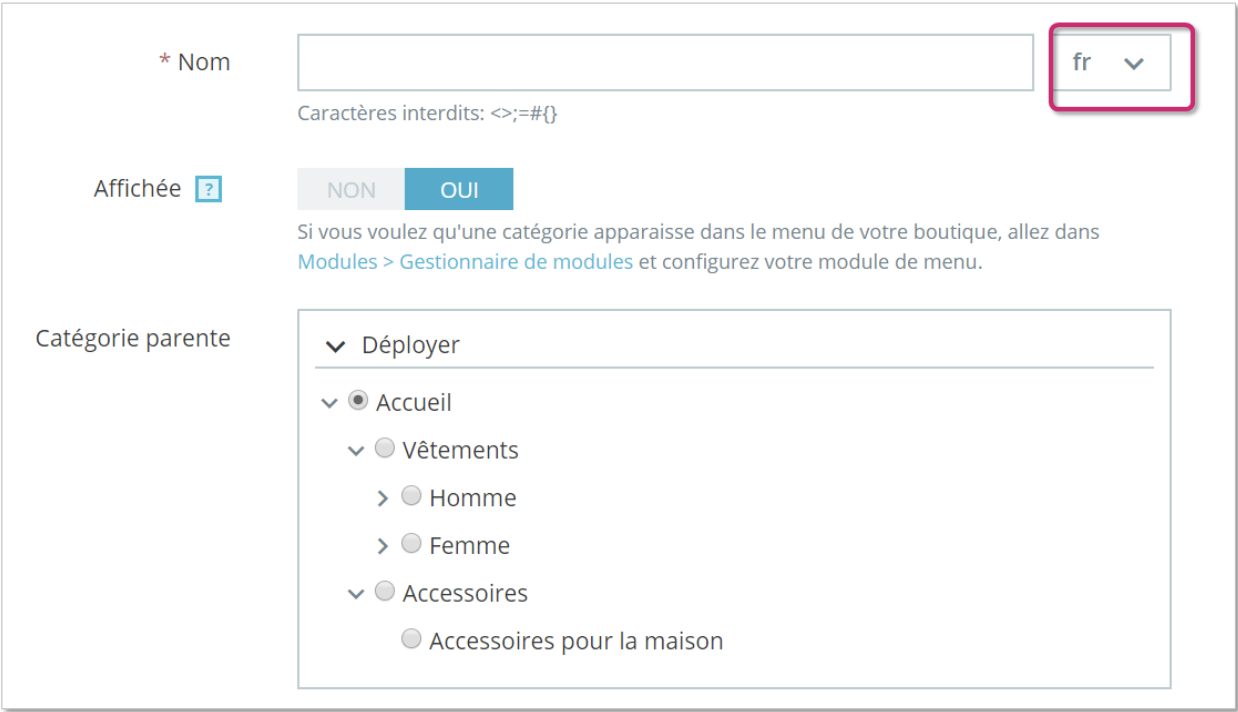 Name: name the category. Use a short, descriptive name.
Displayed: indicate whether you want your category to be visible (i.e. activated or not). For example, you might only want to put a category online once all the products have been placed there.
Parent category: does not appear when creating a parent category. If you wish to create a sub-category belonging to a category other than the home page, you can choose it from this selector.
💡 Use the language selector on the right to translate each field into all the languages used by your store.
Here's what the fields in the "Woman" category correspond to:
A - Description: category description
B - Cover images: main category image that appears on the category page
C - Category thumbnail: displays a small image in the parent category page
D - Menu thumbnail: displays a small image in the menu to represent the category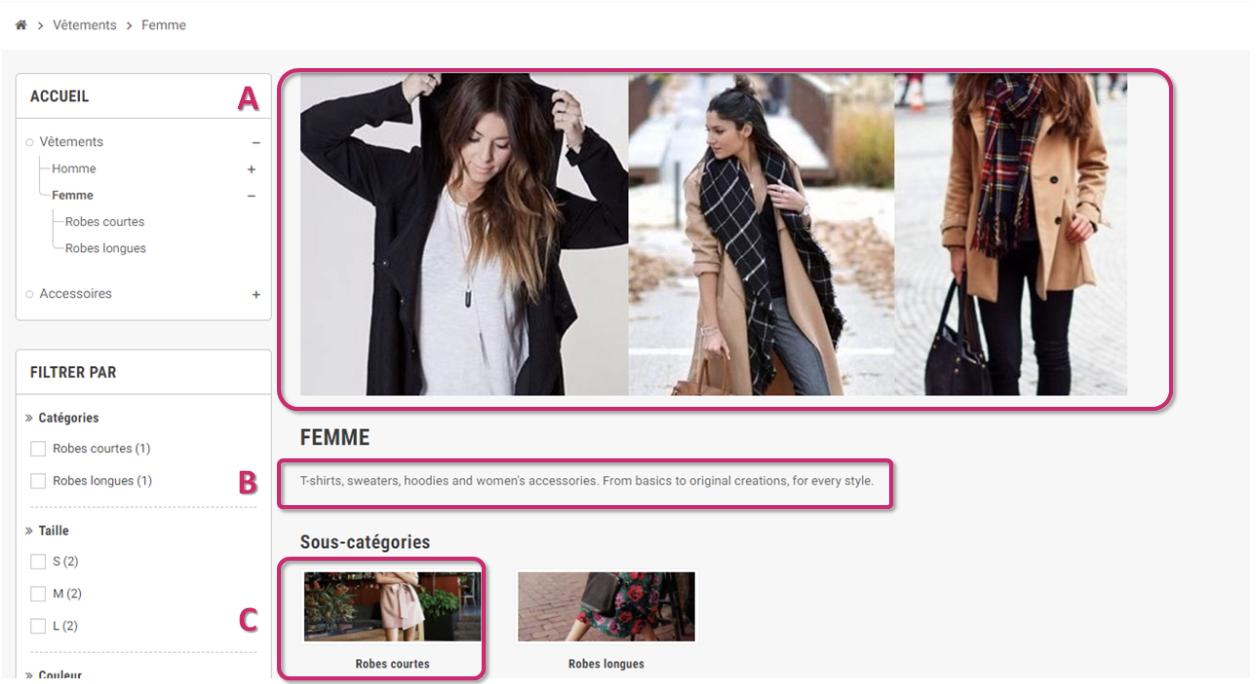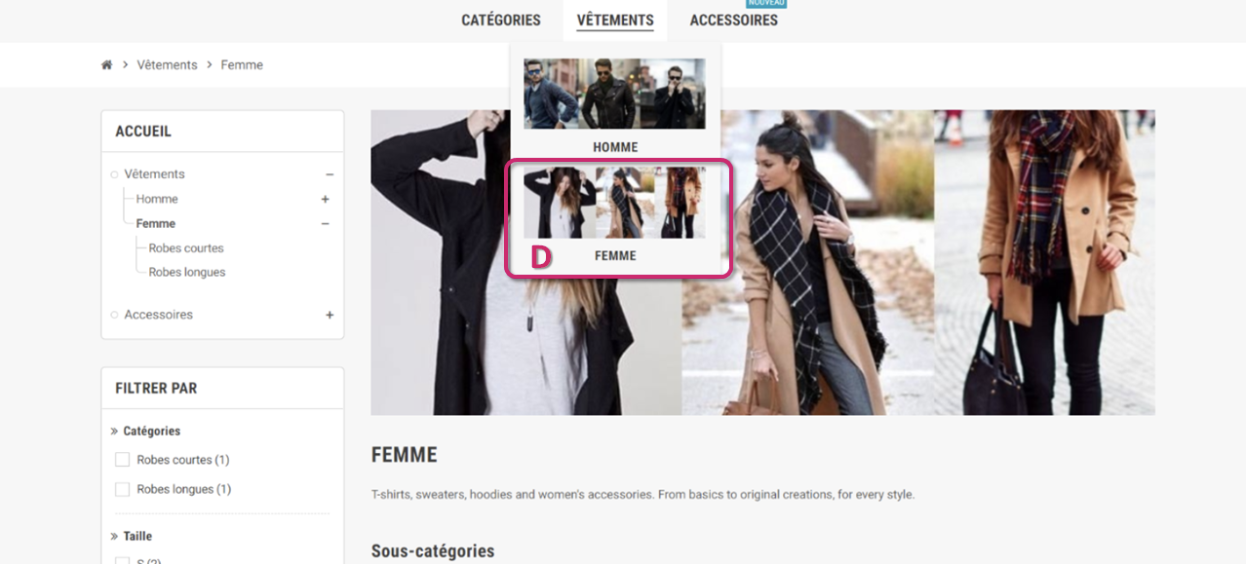 How do I set up my category referencing?
Search engine optimization (SEO) is key to the success of your store, and well-indexed categories will help you optimize your rankings. To help you understand, here's how your categories appear in search engines.

A - Title tag : the title that will appear in search engines.
B - Meta description: presentation of the site in a few lines, with the aim of attracting the customer's attention.
C - Meta keywords: the keywords you need to define for your site to be referenced by search engines. You can define several, separated by commas. You can also define expressions, taking care to enclose them in quotation marks.
D - Simplified URL: automatically completed when you fill in the title tag. This allows you to simplify the category URL.
How do I manage category access?
The "Group Access" feature allows you to restrict access to the category and its products to certain groups of customers.
This feature is useful if you want to offer exclusive products to web users with a customer account, for example.
If you want your category to be accessible only to a certain category of buyers, select the associated customer group, otherwise click on "Select all" to give everyone access to your category. Save to save your settings (step 5).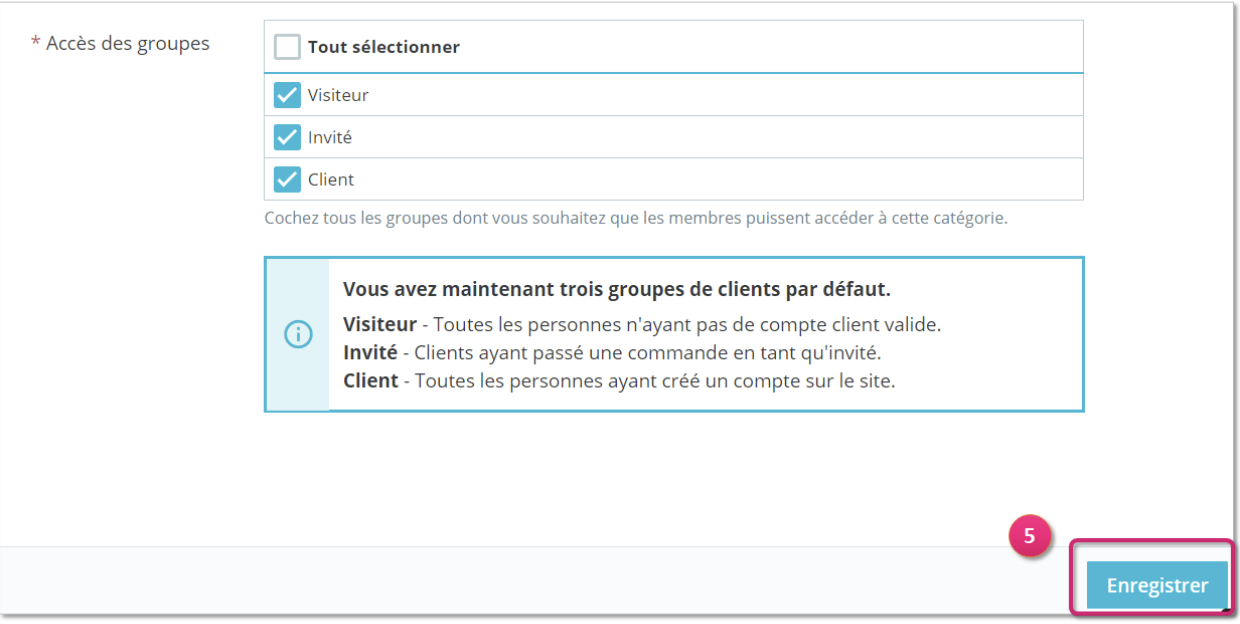 How do I edit or delete a category?
Categories can be edited or deleted from the list of available categories on the Catalog page > Categories.

To modify a category, click on the "Modify" button to the right of the category you wish to modify (step 6).
To modify or delete a child category, click on the main category name to display the associated child categories.
Delete demo categories and products
Your PrestaShop store contains default categories and products, so don't forget to delete them so that they are not displayed in your store.
Select the option "I want to delete products that are linked only to the category I'm deleting and to no other" (step 7) then click on "Delete" (step 8).