Define the price of a product
Define the price of a product
Anne-Sophie F
-
Updated on Friday, August 18, 2023
The "Prices" tab of the product sheet allows you to configure your prices in detail. Find out how to get involved!
To access: Catalogue > Products
The "Price" tab is a separate section of your product sheet. In fact, this tab contains numerous fields that influence each other in terms of tax calculation. Here's how it looks: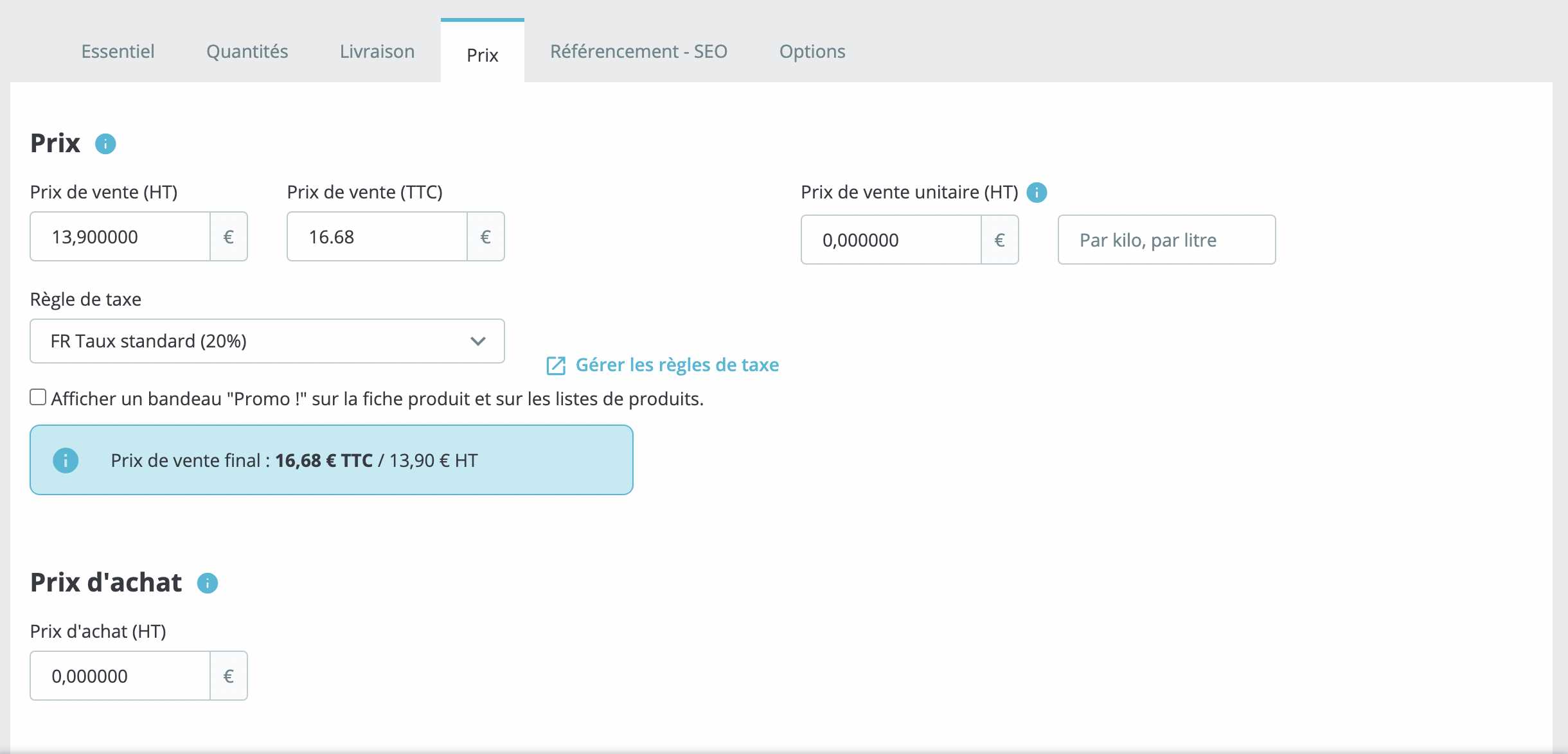 How do I fill in the "Prices" section?
Completing this section will give you a precise idea of the impact of taxes on your products.
Selling price (HT): designates the price of your product before taxes.
Selling price (TTC): designates the price of your product once taxes have been included. Complete this field, then select the tax rule to be applied so that the sales price HT is calculated automatically. The reverse operation is also possible.
Tax rule: designates the tax applicable to your product. Choose one of the different rates you have in place.
💡 To create new tax rates, click on the "Manage tax rules" button to the right of the "Tax rule" field. See our article on how to configure tax rules.
Unit selling price (HT): designates the unit price of your product. Some legislation requires that the unit price of products be displayed. For example, if you sell a pack of 6 cans, fill in this field with the price of one can and indicate "per canette" in the second field.
How do I fill in the "Purchase price" section?
The field "Purchase price HT" refers to the wholesale price (your factory price) which corresponds to how much the product cost you. By comparing it with your selling price, you can easily determine your margin.
How do I fill in the "Specific prices" section?
The "Specific prices" section allows you to modulate the final price of a product according to various parameters: the quantity a customer buys, whether he belongs to a group, his country, etc.
This feature allows you to be as precise as possible when calculating your prices. To find out more about the award criteria and the nature of the discount, visit this article.
How do I fill in the "Priority management" section?
This section determines the behavior of PrestaShop if a customer is concerned by several specific prices.
Setting priorities allows you to decide which specific pricing rule will be applied first. For this product, determine the order of the following criteria: country, customer group, currency and store.
These four fields are not mandatory: you can choose to fill in the fields by marking "country - currency" if you wish to prioritize only one country and one currency, for example.
If you want these priorities to apply to all the products in your catalog, check the "Apply to all products" box.