Add a feature to a product
Add a feature to a product
Anne-Sophie F
-
Updated on Friday, August 18, 2023
Adding features is crucial for your store. It allows you to specify the specific features of your product, and gain in referencing. Find out how to create and manage your product features!
To access: Catalog > Attributes & Features
What is a feature?
First of all, be careful not to confuse attribute and characteristic! An attribute is a product property used to create a declination (size, color, etc.).
A characteristic, on the other hand, is intrinsic to a product. Unlike attributes, features do not create product variations and are primarily intended to inform the customer.
Which features to add?
You can add as many features as you like. For example, if you sell dresses, you can add the features "short sleeves", "linen", "polyester" and more depending on your product!
💡 PrestaShop's comparison algorithm is based on product characteristics. Since product comparison only works within a single category, you need to ensure that all products in a category share the same features, so that the tool can compare the values of each feature.
How do I create a feature?
Click on "Add a feature".
Fill in the following fields: "Name", "URL", "Title tag".
Once these fields have been filled in, save to be redirected to the list of added features.
How do I add a feature to a product?
Go to the product page, then click on "Add a new feature". A simple form appears.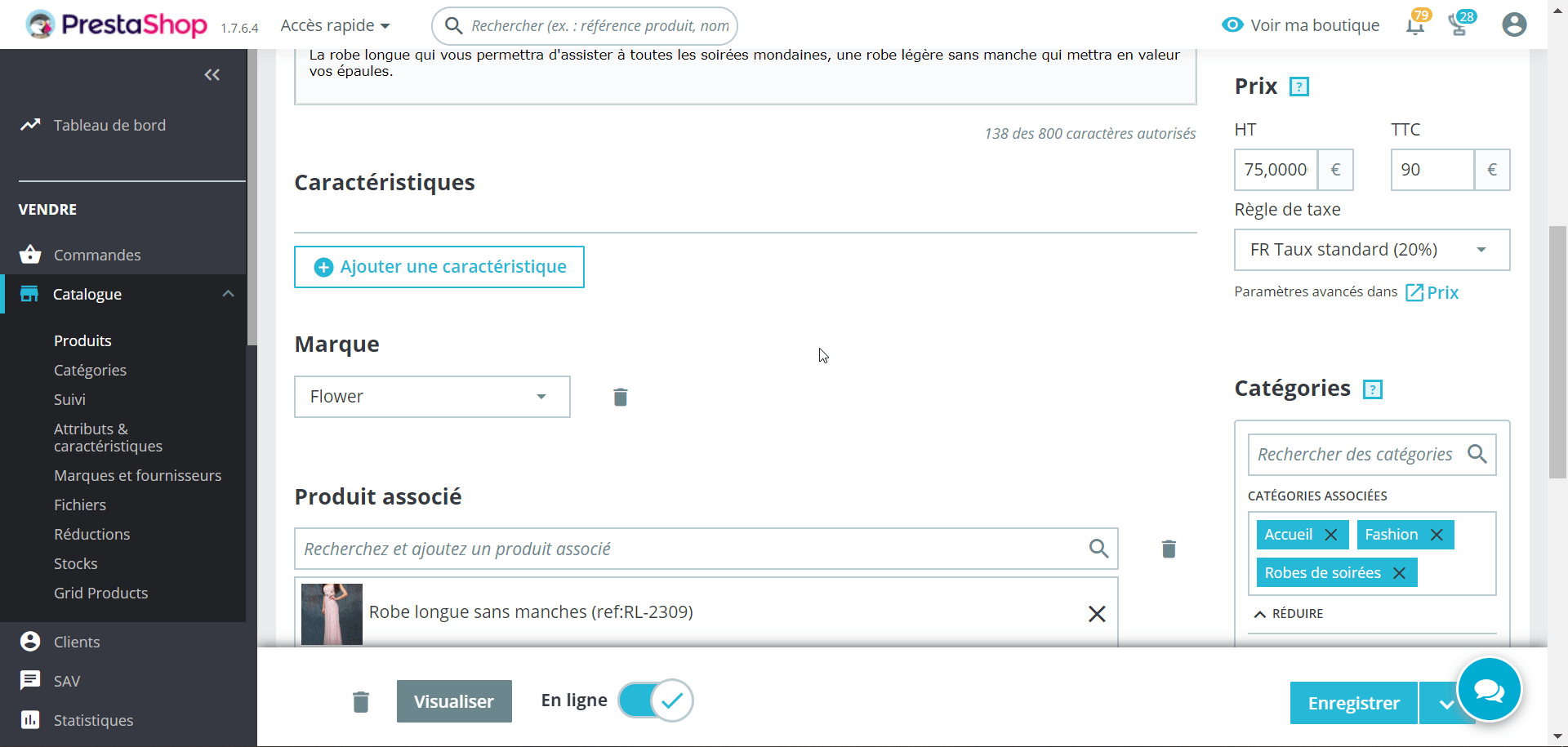 The "Characteristic" field displays the characteristics created in the previous step.
The "Value" field is used to assign a value to the characteristic. For example: "5 kg", "27 cm" or "short sleeve".
Click on "Add a feature" to save it.
To add another feature, click on "Add a new value".
Once you've added all the features, save your changes and see them applied to your store straight away.
⚠️ If a feature doesn't have an assigned value, it won't be taken into account and therefore won't be visible in your store.
How do I change or delete features?
You can change the order of the features created using the arrows in the "Position" column. The "Actions" column gives you access to the "Modify", "Delete" and "Details" actions. Click on the buttons corresponding to these actions to display the values available for this feature. These values can be sorted, modified and deleted.