Set carrier preferences
Laure
-
Updated on Friday, August 18, 2023
PrestaShop allows you to define your carrier preferences to best fit the parameters of your deliveries. Follow the guide!
To access: Delivery > Preferences
The delivery preferences interface looks like this: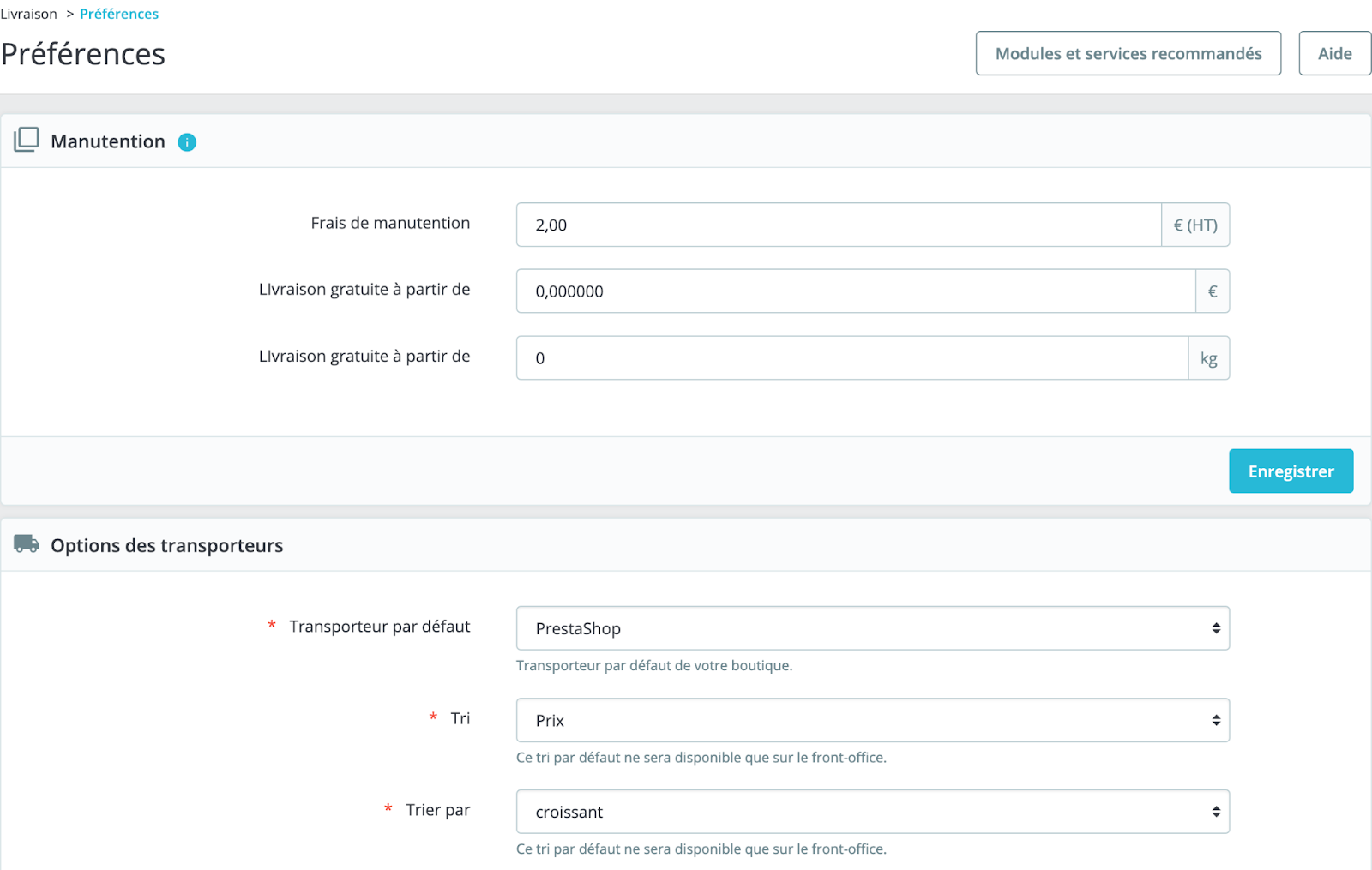 How to set up handling?
Handling costs (not to be confused with shipping costs) represent the cost of retrieving packages, packingthem and shipping them. The handling section allows you to define the following elements:
Handling fee: enter the handling fee per order in HT, which will be added to the total order price. If your handling costs are zero, enter €0.
Free delivery from: these two boxes allow you to specify a price or weight from which customers will benefit from free delivery, from a certain amount or weight, depending on your preferences. These two fields are optional.
How do I set carrier options?
Carrier options are used to define a default carrier for your store, but also to define which carriers will appear first on your site.
Default carrier: indicate the carrier you would like to offer your customers as a priority. This box contains several options:

Best price to give priority to the cheapest carriers. Please note: if you offer in-store collection, this option will be considered the cheapest and will therefore be given priority by PrestaShop.
Best grade: to give priority to the fastest carriers thanks to carrier ratings.
MyCarrier This option is not required if your store is online. Indeed, MyCarrier is PrestaShop 's default carrier example, which should not be used in production as it was designed solely to serve as an example. The same applies to "PrestaShop", which also appears in the list.

Sorting: to define the order in which customers are presented with their choice of carriers when ordering. You can choose to sort the list either by shipping costs, or by their position in your list of carriers.
Trier by: to indicate the sorting order of carriers. You can choose between "Increasing" and "Decreasing".
Thus, if the settings are set to "Price" and "Descending", then carriers will be displayed from most expensive to least expensive. Similarly, if the settings are set to "Position" and "Increasing", then the carriers will be displayed from the one at the bottom of the list of carriers proposed to the customer, to the one in first position.
Click on "Save" to put your transporter preferences online!