Configure PrestaShop Facebook
Configure PrestaShop Facebook
NC
-
Updated on Wednesday, August 23, 2023
You'll be redirected to the PrestaShop Facebook configuration page, where you'll find information on your Facebook account associated with your store, giving you the option of disconnecting it or changing account if necessary. You'll also notice that new tabs have been added: Sales channels and Product catalog.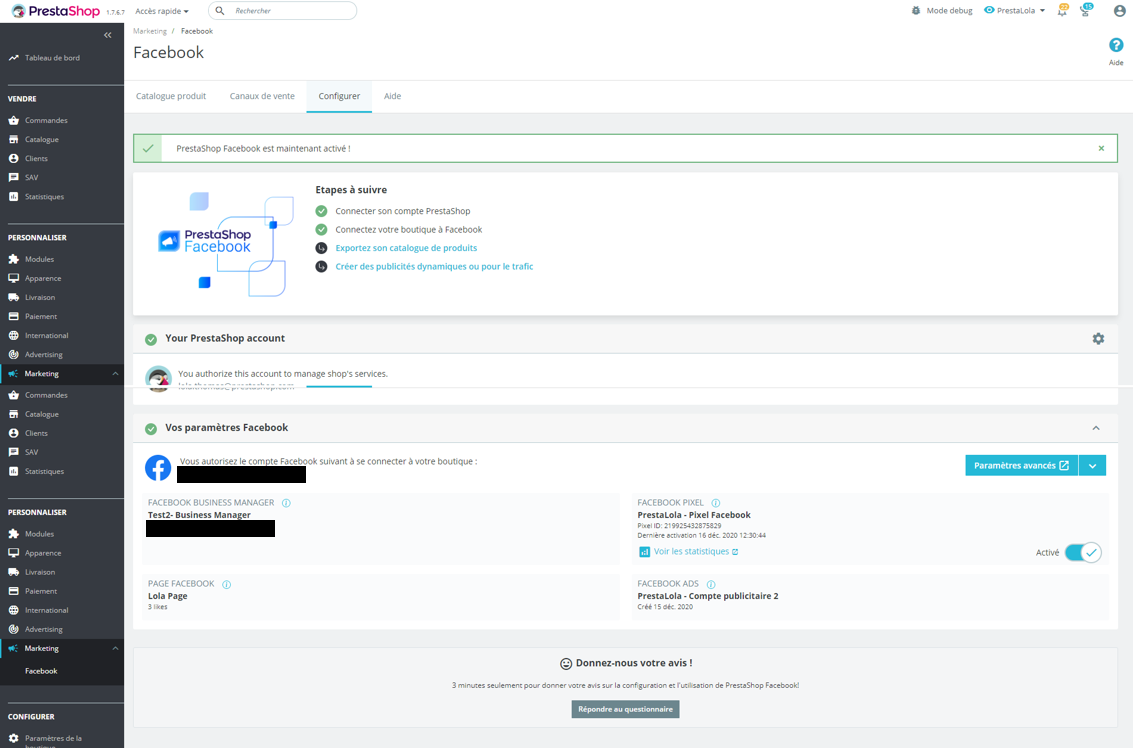 If you wish to modify your settings Facebook, you can click on the multiple button which allows you to perform several actions:
Advanced settings

, which opens the Facebook Business Extension home page in another tab.

Restart connection

,

which displays the connection pop-up window Facebook

Disconnect

which, when clicked

, displays a disconnection confirmation pop-in at Facebook. If you confirm, you will be redirected to the previous step.

Pixel Facebook and the Conversions API
Once your configuration is complete, you'll see that your Pixel is automatically implemented in your store. You can activate or deactivate it at any time from your Configuration page by clicking on the switchbutton.
The Pixel, installed in your store, will track the following events:
AddToCart

: when a product is added to the cart.

AddToWishlistwhen a product is added to the wish list.
CompleteRegistration

: when a registration form is completed.

Contact

: when a person contacts the merchant via the site's contact form

.

CustomizeProductwhen a person personalizes a product or chooses a variation of a product (e.g. a different color).

InitiateCheckout

: when people initiate the payment procedure before it has been completed.

PageViewThese are the default pixel tracking page visits.
Purchase

: when a purchase has been made or a payment procedure has been completed.

Searchwhen a search is in progress.
ViewContent

: a visit to a web page that interests you (e.g. a product page or a landing page).
PrestaShop Facebook Also active, the Conversions API at the same time as Pixel for total visibility and more reliable data sharing. The Conversions API tracks the same events as Pixel but from the server, rather than through the browser.
You can check that Pixel and the Conversions API are working properly by clicking on the View statistics button. You will then be redirected to your Business Manager Facebook in the Event Manager section, where you can see all the events coming up via Pixel and the Conversions API.

Are you experiencing difficulties?
If you have any problems or require further information, please do not hesitate to contact us. A contact link to our direct support is available in the "Help" tab of the Prestashop Facebookmodule.