Export product catalog to Facebook Business
Export product catalog to Facebook Business
NC
-
Updated on Friday, October 20, 2023
Preliminary analysis of the product catalog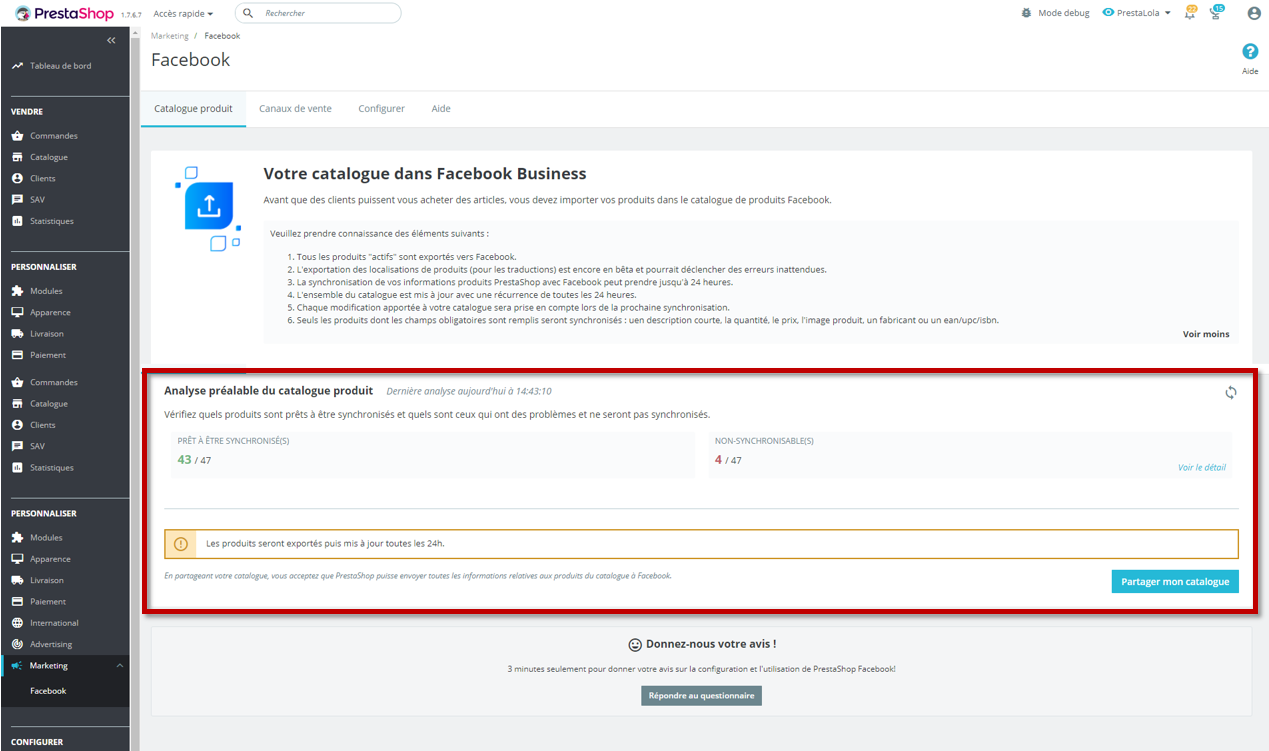 Here you can view :
the number of products in your PrestaShop catalog that are ready to be synchronized with the Facebook catalog at the next synchronization.

the number of products that will not be synchronized during the next synchronization
Why are some products not ready for synchronization?
Thanks to PrestaShop Social, a scan of the entire PrestaShop product catalog is performed before synchronization with Facebook. Products with one or more of the fields listed below empty will not be synchronized on Facebook :
the name,

the "short" description,

quantity,

the price,

product url,

product image

the manufacturer or a ean/upc/isbn
You can see all products with errors by clicking on View details. You can then choose whether or not to modify the products so that they can be exported to your Facebook catalog.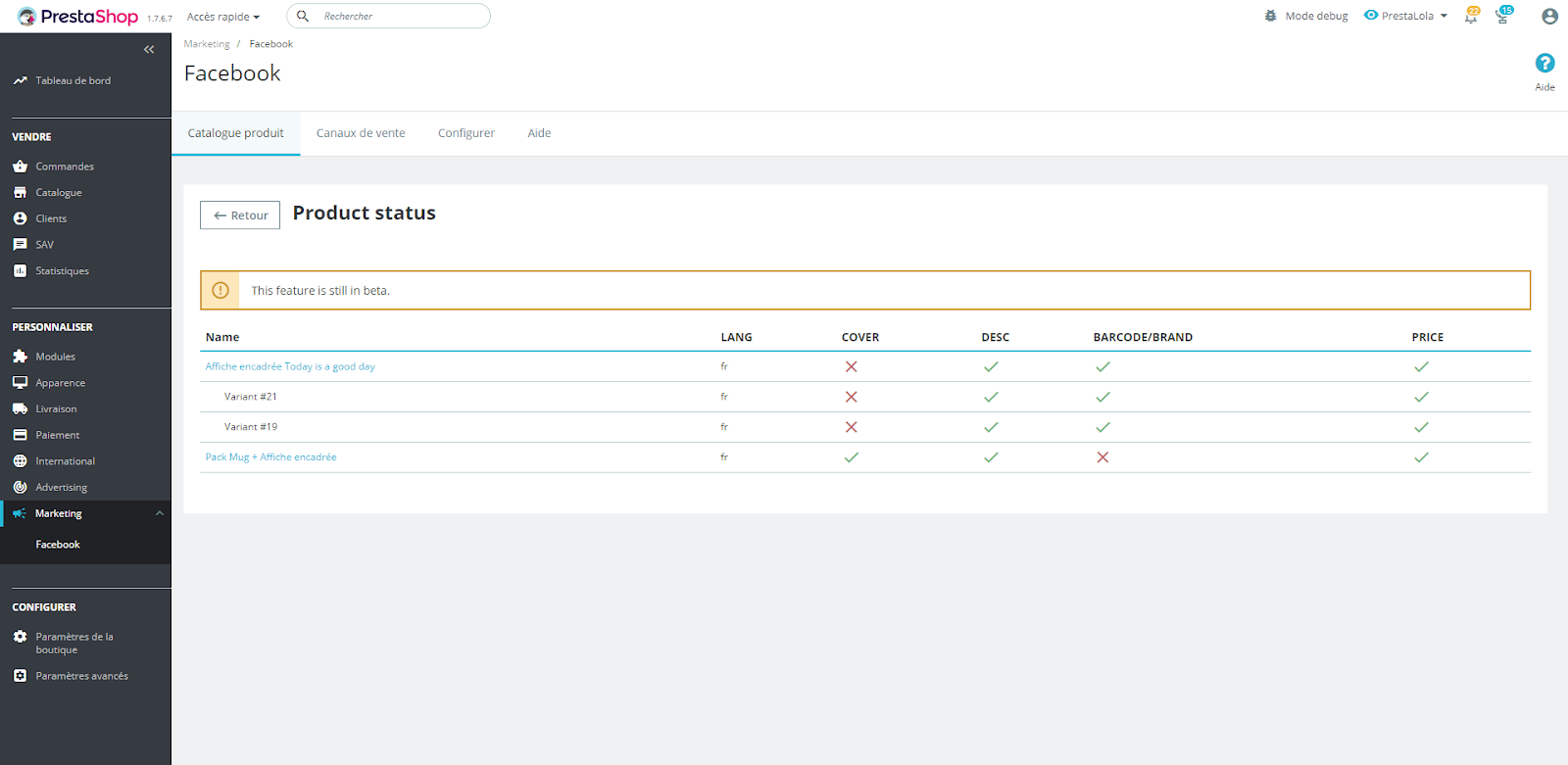 Any changes you make to these products will be taken into account the next time you synchronize. To check that your changes have been taken into account, click on the Refresh button. Normally, the product will go from "unsynchronizable" to "ready to synchronize".
Start exporting your catalog to Facebook
Here we explain how to export your PrestaShop products to your Facebook catalog.
In the Product Catalog tab, you will find a block entitled "Your catalog on Facebook Business". The aim is to enable you to export your PrestaShop products to Facebook Business and make them visible on the Facebook and Instagram platforms.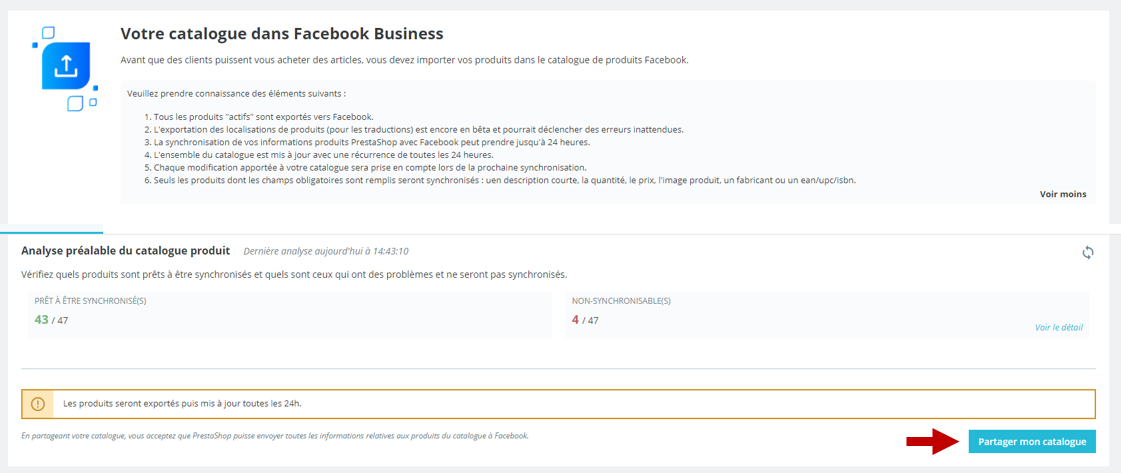 Click on the "Share my catalog" button to activate the catalog export function on Facebook. In this way, all your PrestaShop "active" products will be sent to the Facebook catalog at 1h (time zone GTM) upon your activation of export, and you'll see an "Activate / Deactivate" switch button and a "View catalog" button.

If catalog export is "Enabled", the catalog will be updated every day at 1 a.m. (time zone GTM). This means that if you make changes to product sheets, or if new products are added to your catalog, you will have to wait until the next synchronization to see the changes appear in your Facebook catalog.
You can deactivate and reactivate the Catalog export function by clicking on the switchbutton. When clicked, a pop-up appears to confirm deactivation.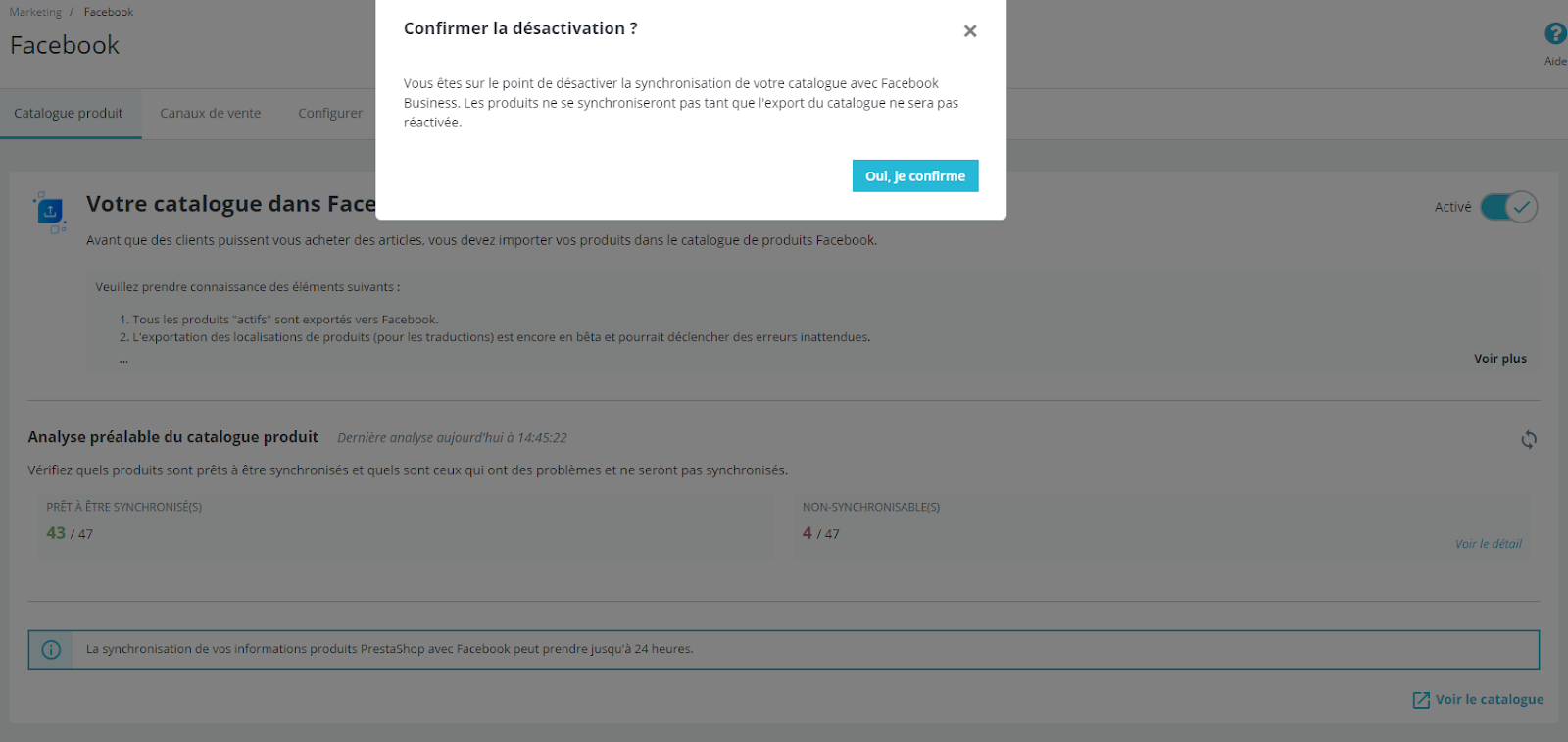 You can also view your Facebook catalog by clicking on "View catalog". On clicking, you are redirected to the Catalog Manager at Business Manager Facebook , where your PrestaShop products will appear once the export has been finalized.