Migrate to PrestaShop
Laure
-
Updated on Friday, November 24, 2023
You manage an online store and you want to migrate to another e-commerce solution. PrestaShop has caught your attention, but changing software is not trivial. We are here to accompany you in this adventure.
Here's how to migrate your site to PrestaShop in ten steps!
Step 1 : Key points to consider when migrating your store
Some questions to ask yourself before considering a migration
First of all, why migrate? Make a list of the advantages and disadvantages of your current solution to have a specification of the final needs. It would be a shame to run into the same blockages.
Which solution best fits my requirements? Which one will give me the most flexibility? Check out the Marketplace Addons to see the possibilities of extensions.
Am I ready to learn how to manage this new e-commerce solution? Free resources can help you at PrestaShop Academy.
Am I able to do it myself? If not, do I have the budget to use an agency or the services of PrestaShop ?
Do I have the time to devote to this time-consuming process right now?
How is my current solution referenced, is it interesting to keep the URLs older?
Will it be possible to set up a redirection plan when I launch my new site?
Some things to check to ensure that a migration is feasible
Armed with the answers to the previous questions, there are still some points to be clarified before taking the plunge.
Domain name: Do I have access to my current domain name? By which service is it provided?
Hosting : Do I already have a host for my site? Am I willing to invest monthly to maintain this hosting?
Store data: Check that the solution I am currently using allows me to export data, and that I have access to the database.
If your current solution is on the list on this page, then you can request the services of PrestaShop.
If your current solution is not in this list and you do not have access to your database, you will need to be prepared to manually enter your catalog on your new site.
Some data cannot be ported, and in any case you will have to keep a copy of your current site.
Step 2 : Set up your new store
You have chosen to migrate to PrestaShop, it's a very good choice ! It's time to deploy the solution on your server and set up your new site.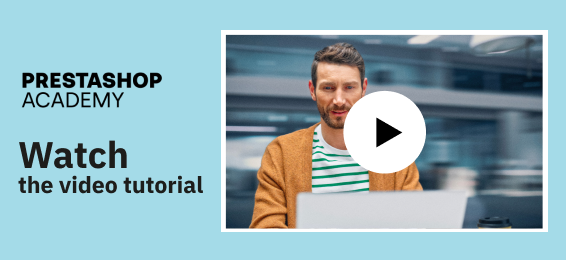 Watch the video tutorial
Find all the steps to follow in the video "Set up the basic settings of your store", available on PrestaShop Academy.
Go to PrestaShop Academy
It is advisable at this stage to think carefully about the configuration of the store before thinking about the import. Configure the taxes, delivery countries, delivery zones, end-customer groups, languages and currencies you want to use. Give access to your employees by creating an account for each of them with the action rights you want to specify.
Spend some time on the site under construction to test the solution and consolidate your specifications.
Step 3 : Import your store content and data into PrestaShop
What data do you want to migrate?
Remember that the order in which you migrate the data is important. We recommend the following order:
Category tree
Products
Customer data: login information, aggregate data and addresses
Order history (orders that have been executed)
Discount codes, credit notes, gift cards (historical if possible, otherwise valid)
Static content pages (shipping policy, contact and other web pages)
Product Reviews
How will you migrate the data? There are three solutions: you can do the migration yourself if you have an advanced technical level, otherwise we recommend that you use a certified agency or our migration plan.
Check that all imported data are correct and complete
You will realize that each e-commerce solution has its own logic, the data are not processed in the same way. The most important thing in the end is that these are available on your future back-office.
We therefore invite you to check the completeness of the data after import. The number of elements must be identical and complete. This may require adjustments to the initial costing if this data had not been identified and is not included in the new back office, but if this data is essential to you, it should be retained.
Once all the data is in place, it's time to move forward. It is preferable if possible to keep the old store in maintenance during this period to avoid having to process new data afterwards.
Now you can start editing your catalog on the new site! Always allow time for processing to sort out and complete the information. This is also a good time to sort out, but be careful with referencing, we will come back to this.
Step 4 : Adapt your store design
Now that the most important part of your store is ready, let's move on to the image you want to communicate to your customers. The design of your site is very important, it must reassure the customer, give him confidence in your site more than his neighbor.
By default, the solution PrestaShop Open Source will offer you a native theme, clean and uncluttered, but you will surely want to assert your own identity, the image you want to convey to customers.
There are two ways to do this: find and buy a theme on the Addons Marketplace, or use the services of an agency specializing in customization. The budget will be different, so it's up to you to compare these solutions to determine which one fits your needs.
Step 5 : Set up delivery
If you are lucky enough to have a site, your logistics may already be in place
However, it is always useful to ask questions to make your services evolve. Do you have any ideas for improving your deliveries? Maybe you use too much service or not enough?
On PrestaShop you will be able to rely on a large list of delivery solutions. You can create your manual carrier and manage the delivery as you are used to. But a time saving is always interesting, take the time to contact the delivery solutions available in your country. They can have modules that allow you to generate transport labels directly without having to copy them every time, for example.
You are starting on a new basis, it's time to try something new, you will surely find more options available and more comfort to manage your next orders.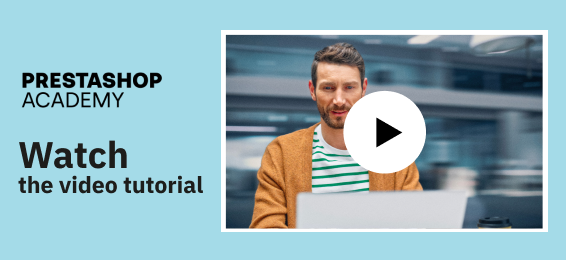 Watch the video tutorial
Find all the steps to follow in the video "Learn how to create carriers for your store Prestashop", available on PrestaShop Academy.
Go to PrestaShop Academy
Step 6 : Set up at least one payment method
In the same logic as the carriers, you normally already have the chance to use one or more payment solutions.
Here again, PrestaShop offers many solutions to implement the equivalent of these payment methods.
Take the time to learn more and choose the right module. Deployment is usually quite straightforward. In any case, don't miss it, it is a key point to reassure your customers.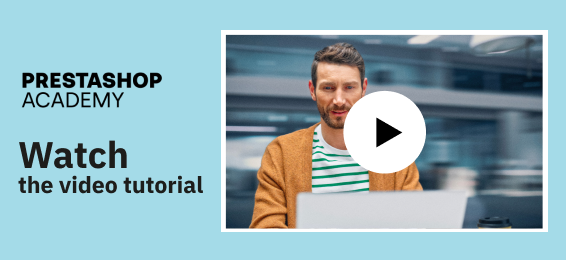 Watch the video tutorial
Find all the steps to follow in the video "Learn how to set up your payment methods", available on PrestaShop Academy.
Go to PrestaShop Academy
Step 7 : Place test orders
Remember to perform a full test of your site as a client to ensure that everything is working properly:
Check that it is possible to connect to your site through a migrated client account
Create a new customer account from A to Z
Browse the main pages of the site
Add products to the shopping cart of this test customer
Place an order with each payment method in place and check that the corresponding data appear in the back office
Take the time to perform these tests without wanting to go too fast! If something is blocking you, it will probably block your customers. Each point must be considered, thought out or corrected so that the navigation and order placement is as fluid, reassuring and understandable as possible for your customers.
Step 8 : Configure URL redirects
You have a site for several years? It is indexed on Google ? You have a rather good position compared to your competitors on the search results pages?
This element is not to be taken lightly, the referencing of your site is the point that will make your traffic more important, and a more important traffic means a more important rate of transformation of your visitors.
The redirection plan when migrating a store you have been using for several years is very important. Your site has progressively gained a certain weight in the indexation Google, a reputation on the results, which is why your site will go up more than the others in the searches.
If you launch your new site without anticipating this step, you will not start from scratch because you will use the same domain name, but you will notice a high error rate 404 (pages not found) that Google will penalize. Some URLs that have an important weight will no longer exist, you will lose this precedence.
It is therefore important to ensure with the provider you have chosen for the migration or with an agency SEO that this redirection plan will penalize you as little as possible. The goal of the game is to redirect if possible 100% of the URLs of your old site to the new URLs of your store PrestaShop.
Step 9 : Set up your domain
It's almost time!
The data are migrated to the new site ✅
The new image of the site is in place ✅
The means of payment are configured ✅
Carriers and delivery areas also ✅
The store has been thoroughly tested ✅
Remember that in step 1, we were talking about domain name and server. It's time to link the two to your new site. This is an action that must be performed by your host, just contact him. Once the domain name is in place, it's up to you, the new site is ready to go online!
Step 10 : Invite your customers to log on to your new site
Anticipate this great day and inform your customers to encourage them to join you on this new site. If you have successfully migrated your customer data, they will simply log in with the same access.
Plan with a solution specialized in communication to send a newsletter, take the opportunity to offer a code promo, it is an ideal moment to strengthen the image you want to communicate to your customers. The first connection and the first order will be soon, good luck for the continuation!